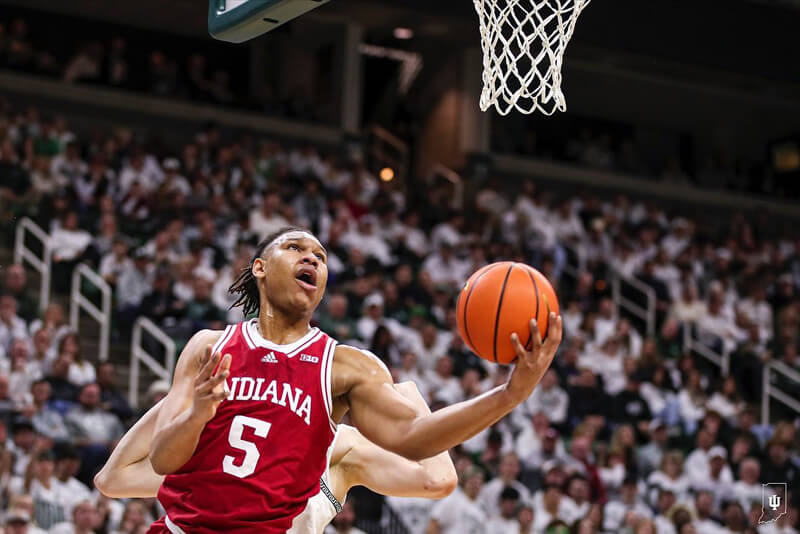 Quick thoughts on an 80-65 loss to the Spartans:
How it happened
Indiana's start at the Breslin Center was solid Tuesday night. The Hoosiers jumped out to a 17-10 lead on a Miller Kopp 3-pointer and committed no turnovers in the first eight minutes. But it was downhill from there for the first 20 minutes. The Hoosiers turned it over seven times over the next 12 minutes and committed seven turnovers. And Michigan State, which got off to a slow start shooting, found the touch. After leading 22-13, Indiana was outscored 22-7 to close the half to go into halftime trailing by six at 35-29. Jalen Hood-Schifino, who had six points in the first half, sat until the final 6:28 after picking up his second foul. And Trayce Jackson-Davis looked tired towards the end of the half after logging all 20 minutes. The All-American scored nine points but committed four turnovers.
Michigan State started the second half with 3-pointers on its first two possessions, forcing Mike Woodson to call a timeout with 18:44 left and the Hoosiers trailing 41-31. Out of the timeout, Hood-Schifino missed a 3-pointer and AJ Hoggard extended the Michigan State lead to 13 with 18:19 remaining. Trey Galloway answered with a 3-pointer to make it 44-34, but Tyson Walker came right back with another Spartan 3-pointer to make it 47-34. Indiana pulled within five at 53-48 after a 9-0 run, but a tough jump shot by Walker put Michigan State ahead 55-48 at the under-12 media timeout. Out of the timeout, Michigan State scored the next six points to make it 61-48 at the 8:24 mark. Indiana got within eight at 61-53 on a Jackson-Davis layup with 7:13 left, but Michigan State stretched it back to 11 on a Jaden Akins 3-pointer with 6:48 left. The Hoosiers would never challenge the rest of the way. The loss dropped Indiana to 19-9 overall and 10-7 in Big Ten play ahead of a Saturday trip to Purdue.
Outstanding performer
Jackson-Davis led Indiana with 19 points, seven rebounds and five assists, but committed seven turnovers. Hood-Schifino added 16 points and three rebounds in 30 minutes.
Statistics that stand out
Perimeter shooting was one of the big differences in the final score. Michigan State was 10-for-21 (47.6 percent) from distance and Indiana was just 5-for-14 (35.7 percent).
Final IU individual statistics

Final off-pace statistics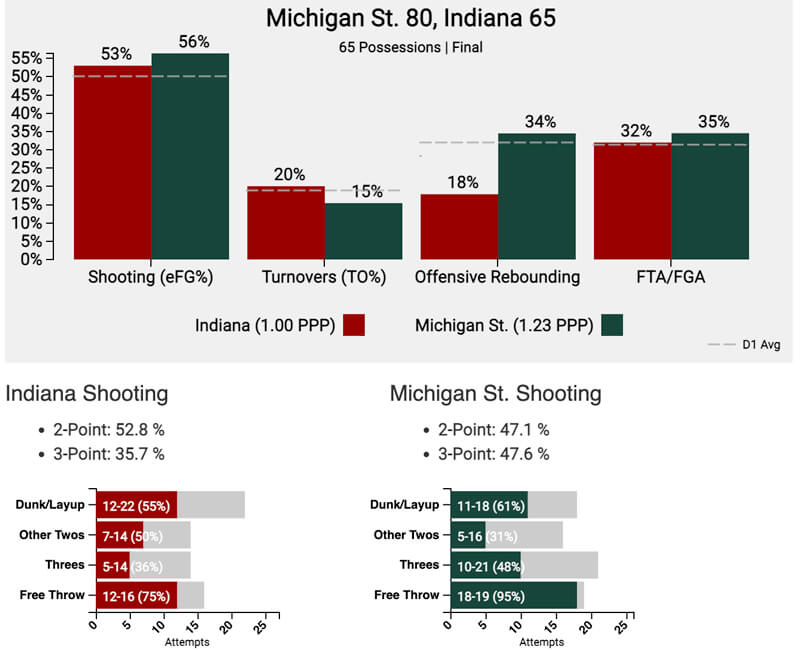 Assembly Call postgame show
(Photo credit: IU Athletics)
Filed under: Michigan State Spartans