We list the best 18-inch gaming laptops of the year so far, and discuss 18-inch non-gaming laptops.
Updated: March 2, 2023 at 15.52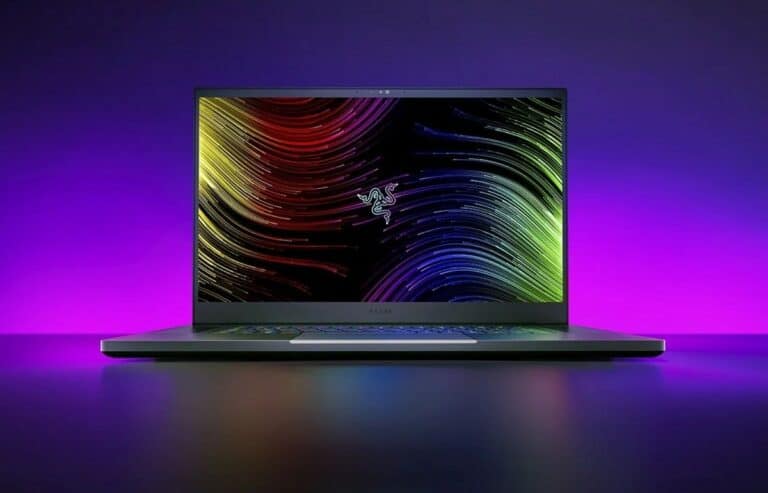 01
Best overall 18-inch gaming laptop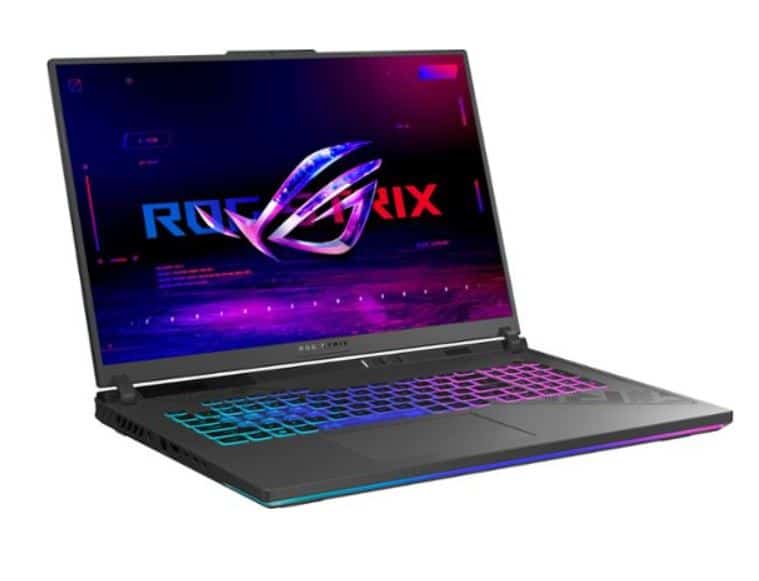 ASUS ROG Strix G18 (i9-13980HX)
02
Most powerful 18″ laptop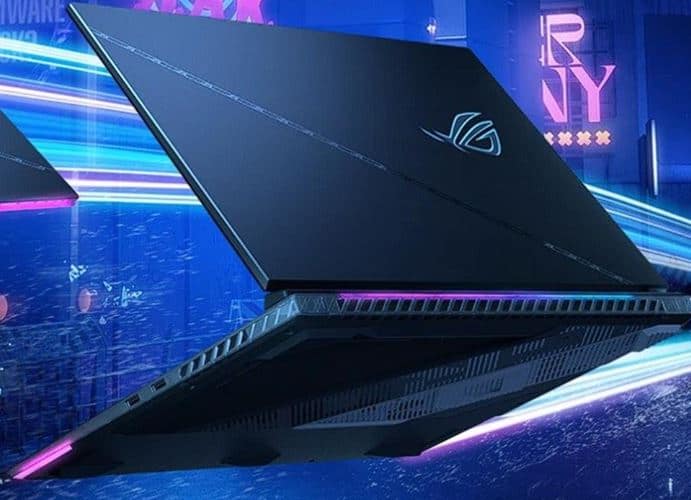 ASUS ROG Strix SCAR 18 (i9-13980HX)
03
18″ gaming laptop with mini LED screen
Acer Predator Helios 18 (mini-LED)
If you are looking for best 18-inch laptops / best 18-inch gaming laptops in 2023so look no further.
Although 18-inch laptops existed several years ago, the size fell out of favor with laptop manufacturers as they were too unwieldy and heavy for most consumers to be interested. But with improvements in laptop design for thinner and lighter laptops, not to mention increasing screen resolutions and the computing power to run games at those resolutions, this screen size option has once again returned to the market.
On this page, we'll go over everything you need to know about 18-inch laptops and list the best models currently available, depending on where your priorities lie.
Are there any 18 inch laptops without games?
Currently, all 18-inch laptops are also gaming laptops. There aren't that many available on the market, and those that are all have the graphics card power, plus high screen refresh rates, to consider them gaming laptops. Of course, this does not prevent you from using them for other purposes, and models such as the Razer Blade 18 would also be well suited for creative design work.
What 18-inch laptops are there?
Not all laptop brands decided to produce 18-inch models for 2023, with names like MSI, Eluktronics and XMG introducing 16-inch models instead of 15-inch, but all are sticking with 17.3-inch as the maximum screen size .
The following list is all 18-inch laptops that have been announced for 2023. It's a pretty short list, so the options are relatively limited for this size of laptop compared to 17-inch laptops, 16-inch laptops, and definitely 15 -inch laptops and smaller, of which there are hundreds.
Acer Predator Helios 18: Can be equipped with up to RTX 4080 GPU, comes with mini-LED display option, not yet released and exact CPU is unknown (besides being 13th gen Intel Core-i9).
Alienware M18 R1: Comes in Intel or AMD CPU options, although the latter is not currently available and will be released in the coming months.
Asus ROG Strix G18 (often just labeled as the ASUS ROG Strix 18): The cheaper of the two ASUS options, which comes with stripped-down RGB and build quality compared to the SCAR, can be equipped with up to an RTX 4080 GPU, all options come with an i9 -13980HX CPU.
Asus ROG Strix SCAR 18: Equipped with up to an RTX 4090 GPU, this laptop has higher SSD offload capabilities and RGB customization compared to the Strix G18.
Razer Blade 18: Comes equipped with up to an RTX 4090 GPU.
Best overall 18-inch gaming laptop (great value)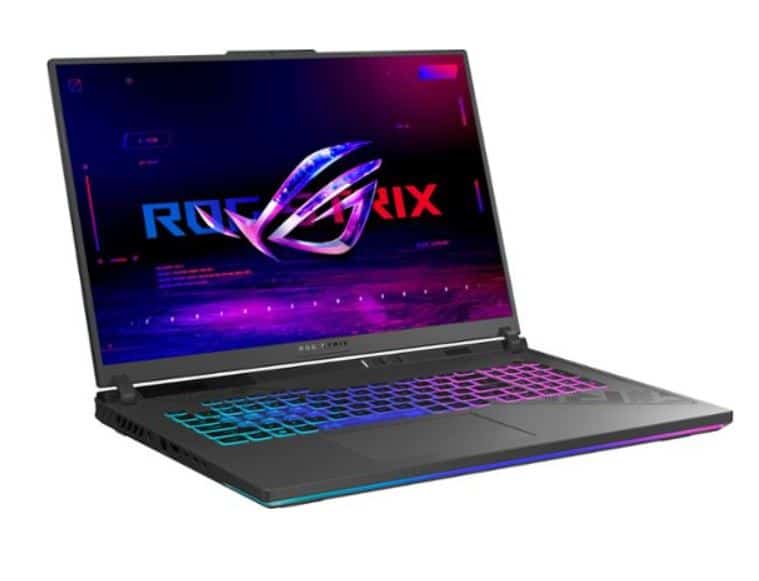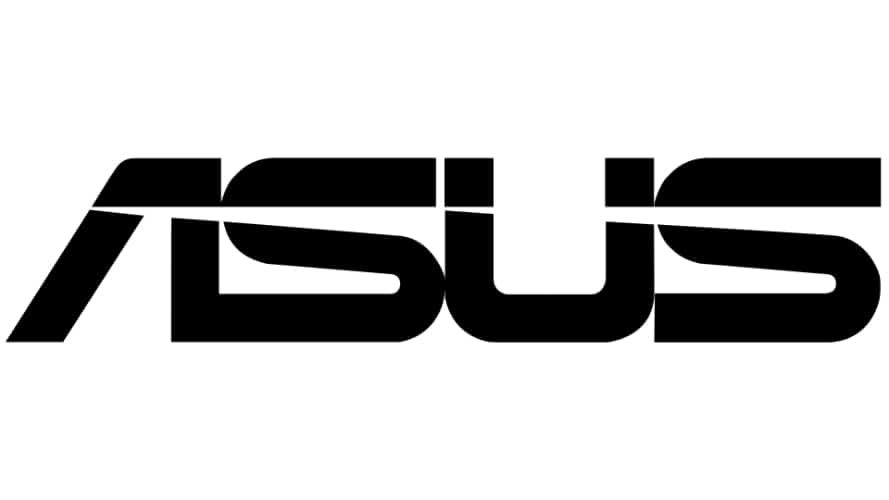 ASUS ROG Strix G18 (i9-13980HX)
processor
Intel Core i9-13980HX
Graphics card
Up to NVIDIA GeForce RTX 4080
While they don't have the most powerful laptop graphics card (compared to the RTX 4090 laptop GPU), RTX 4080 laptops are generally the choice we'd recommend for most people looking for a high-end gaming laptop with one of the new 40 series cards. The power they provide is more than enough for most users, unless they're going for 4K gaming or advanced workstation tasks (read our Is the RTX 4090 overkill? page for more info). Ultimately, RTX 4080 laptops, while certainly not cheap, are significantly more affordable than RTX 4090 models, and the ASUS ROG Strix G18 in particular offers great value for what is a very powerful machine.
The Strix G18 comes with Conductonaut extreme advanced liquid metal cooling to reduce thermal throttling, which was on the CPUs of the SCAR and Zephyrus Duo models last year, but this year has also been used on the GPUs. In addition to this, it now has an internal cooling setup with three fans (as opposed to the previous two) which we saw used to great effect in cooling the ASUS FLOW X16 last year. This means that (as with the X16) the entire back of the laptop is now taken up by an exhaust port, so the I/O connectors have been moved to the side, but we think this is a worthwhile trade-off.
The display is very nice, and is basically the same as in the SCAR 18 (read below for full details on this).
Despite having less RGB customization than the SCAR, it still has an RGB light strip along the front of the laptop, and thankfully this year ASUS has removed the ribbon cables previously used to power this, meaning it's much easier to get in without accident. twist it out and break it when you take the back off.
The build quality can be a bit plasticky, certainly compared to the premium Razer Blade 18, but if you're concerned about gaming power at a reasonable price, we'd highly recommend the ASUS ROG Strix G18.
Most powerful 18-inch gaming laptop (with RTX 4090)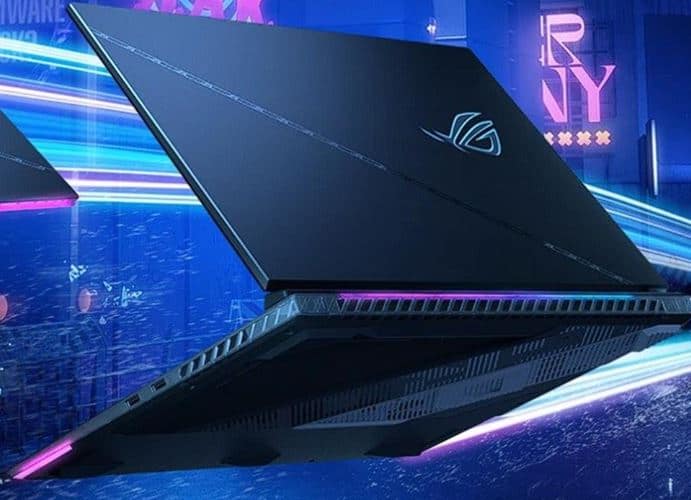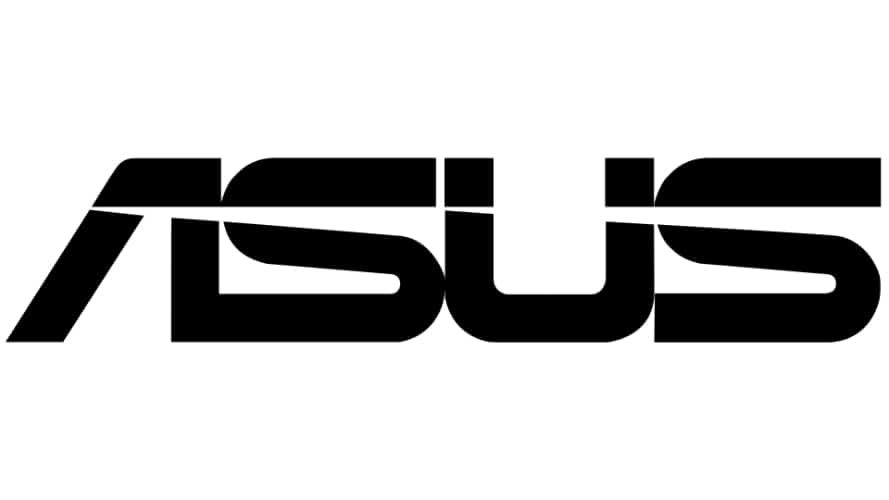 ASUS ROG Strix SCAR 18 (i9-13980HX)
processor
Intel Core i9-13980HX
Graphics card
NVIDIA GeForce RTX 4080 / RTX 4090
The SCAR line always delivers the most advanced, most powerful gaming laptops in the ASUS lineup. The ASUS ROG Strix SCAR 18 has pretty much all the features mentioned in the G18 above, but with a few additions that make it the superior (but more expensive) device.
This year, the cosmetic differences from the regular ASUS ROG Strix don't seem to be as pronounced, but the main difference is that it has the highest GPU option available – the Nvidia RTX 4090. On top of that, it has a higher ceiling for SSD unloading, which is equipped with 4 TB of storage space. If you're going for the RTX 4080 GPU, we'd recommend the G18 over this unit, as the value it offers is superior for relatively small differences, but if you're going for the most powerful FPS / workstation performer, it has to be the SCAR with the RTX 4090.
This laptop is (so far) the most powered 18-inch laptop on the market, surpassing the only other RTX 4090 18-inch laptop: the Razer Blade 18 by virtue of its superior cooling and a little more powerful i9-13980HX CPU.
The quality of the screen is good, but not quite as good as the competing Razer model. Both are 240Hz 1600p panels. The SCAR 18 doesn't have quite as good a response time as the Razer Blade 18, but with an average gray-to-gray of around 5ms, it's still very impressive. Color gamut is comparable at around 100% sRGB and 97% DCI-P3, although accuracy isn't quite as good, peak brightness (490 nits) is slightly lower, and so is contrast (907:1), although both are still pretty good solid.
18-inch gaming laptop with the best screen
Acer Predator Helios 18 (mini-LED)
processor
Intel 13th generation Core i9
Graphics card
Up to NVIDIA GeForce RTX 4080
RAM
32 GB DDR5 RAM (4800MHz)
This device has yet to hit the shelves, or even be reviewed yet, but from what we definitely know about it, this particular strain of the Acer Predator Helios 18 is definitely worthy of being the best display choice. This is because it is equipped with a very impressive 250Hz MiniLED screen.
Although Razer has released a new 16-inch Razer Blade with a Mini-LED display, the Razer Blade 18 does not have this display option, making the Acer Predator Helios the only 18-inch Mini-LED laptop on the market, not to name one with a pleasantly high refresh rate.
Besides the display, we don't yet know exactly which variant of the 13th Gen Intel Core-i9 processor the laptop will come with, but we do know that it will have up to an RTX 4080 notebook GPU. Although we have yet to see any benchmarking of this device, based on the performance of last year's RTX 30 series (which has a similar cooling system), it is sure to be quite powerful.
Following last year's successful redesign, Acer has decided to further refine the design of the Helios – with welcome additions including a Mini-SD card reader and a customizable light strip on the back.
Most portable 18-inch laptop (with the best build quality)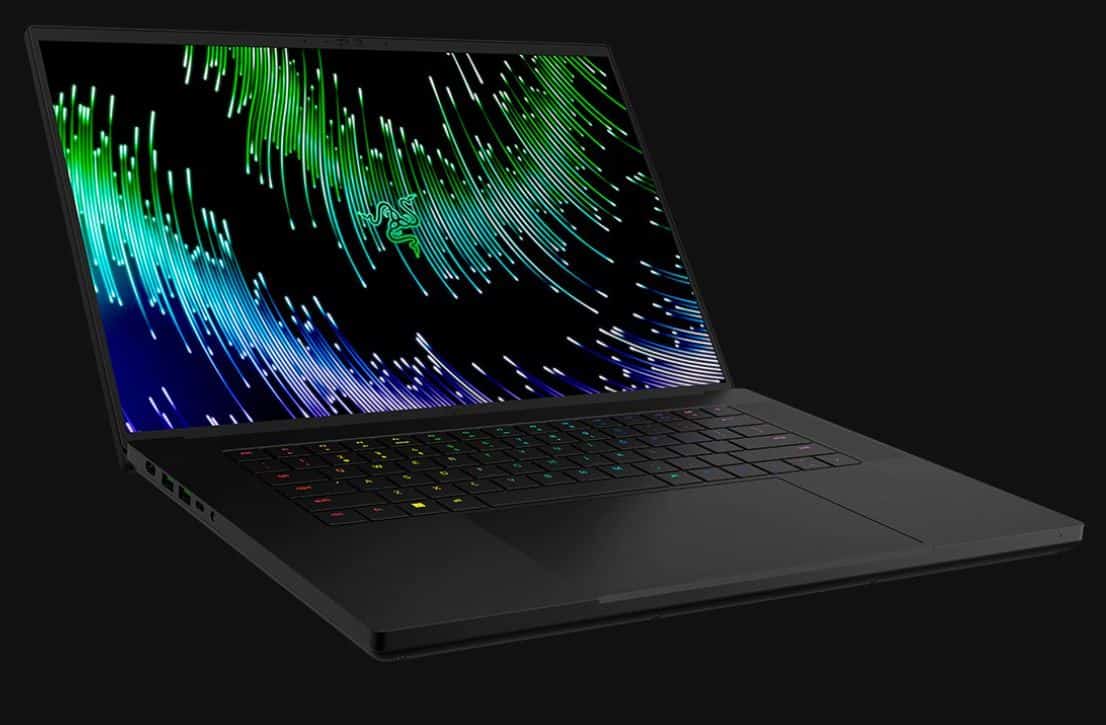 Razer Blade 18 (i9-13950HX)
processor
Intel Core i9-13950HX
Graphics card
NVIDIA GeForce RTX 4080 / RTX 4090
Besides the ASUS ROG Strix SCAR 18, the Razer Blade 18 is the only other 18-inch laptop that can be equipped with an RTX 4090, although it can also be equipped with RTX 4060, RTX 4070 and RTX 4080 notebook GPUs. We haven't had the chance to test one of these machines ourselves, but Jarrod from Jarrod's Tech has done a thorough review of the RTX 4080 variant, and it's an impressive device, but like all Razer laptops, it doesn't come cheap.
If you're looking for the best FPS for your money, you should choose one of the other options on this page, but with the Razer Blade you get the best build quality we've seen so far on an 18″ laptop, plus a great quality screen and premium intuitive built-in software that lets you adjust fan settings and voltage to a fine level of fidelity (definitely better than the bloated software on ASUS machines) While no 18″ laptop is particularly portable, the Blade 18 is the closest you'll find, the is the slimmest and lightest of all the options on this page.
Looking closer at the screen, the average gray-to-gray response time of 3.4ms is first-class – faster than the 4.16ms needed for full ghosting at the 240Hz refresh rate and one of the best results you'll find for a gaming laptop screen. In terms of color gamut coverage, you get 100% sRGB and 98% DCI-P3, along with decent color accuracy.
C. 4 hours of battery life is lower than we'd like, but not the worst out there considering the high power of the GPU and CPU. The option to automatically switch to 60Hz screen refresh rate in battery mode helps here.
Frequently asked questions about 18-inch laptop
Are there 18 inch laptops?
Are there 18 inch laptops? Well, we'd be fools to make this guide if they didn't!
To be fair, the 18-inch laptop only recently returned as an option in 2023, and there aren't many options available. Read our guide for the best for every use case.
What is the largest laptop screen?
The biggest screen in the gaming laptop is actually the 18-incher.
For the past few years, 17.3-inch laptops were the biggest screen laptops you could get, although several brands have decided to launch 18-inch models in 2023.
Best 18-inch laptop: Final Word
We hope so Best 18-inch laptop guide has given you what you were looking for. If you're not sure about any of the above choices, check out our various other gaming laptop guides in the mega menu above, sorted by price point and hardware type.