Canadian trans teacher Kayla Lemieux, who went viral in September for wearing huge Z-cup prosthetic breasts to school, has reportedly denied accusations that they were fake in a recent interview.
"I'm not wearing prosthetic breasts. These are real," Lemieux reportedly told The New York Post.
"My condition is classified as gigantomastia, which can also be referred to as macromastia or breast hypertrophy," the teacher explained.
The Cleveland Clinic defines gigantomastia as a "rare condition" in which one's breasts "become excessively large. It can cause pain, infection, discomfort and body image issues."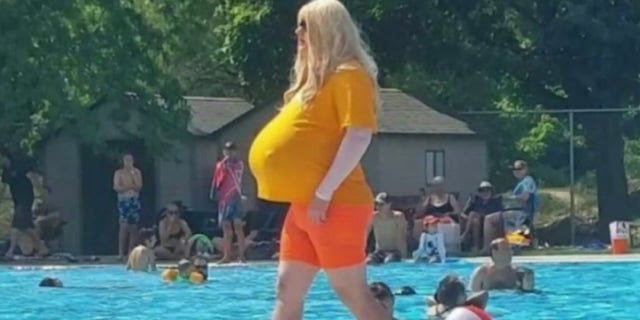 Lemieux shot back directly at the claims that the breast implants were for display and part of a publicity stunt.
"I identify as a woman. Female. She/Her," Lemieux emphasized.
But the teacher also acknowledged that "gigantomastia" was not a common disorder, according to the interview.
"It's rare, there's no doubt about it. It affects women on a very rare basis, but in my case I think – and my doctor thinks – because I have XX chromosomes as well, that has something to do with it, and hormone sensitivity to estrogen has caused it."
CANADIAN TRANS TEACHER WITH GIANT PROSTHETIC BREASTS REPORTED DRESSED AS A MALE OUTSIDE SCHOOL
Lemieux has been accused of dressing as a man outside the school, as photos surfaced of a middle-aged man wearing "sweatpants, sweatpants, a gray men's t-shirt and a navy blue puffer vest with no breasts, make-up, glasses or wig" on school grounds , according to The New York Post.
That outfit stood in stark contrast to what Lemieux first went viral for wearing to school — large prosthetic breasts with tight-fitting clothing.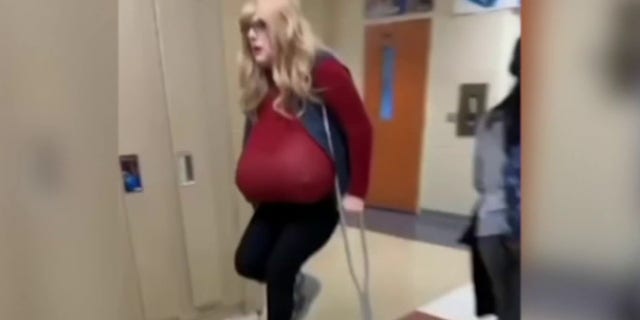 The report sent heads spinning on Twitter, with some political commentators and influencers speculating that Lemieux was donning breast implants as an act.
"The Canadian shop teacher could be the dark knight. Not the hero we need, but the one we deserve," tweeted political commentator Ian Miles Cheong.
Influencer Oli London, who has identified as a gender-fluid trans woman, slammed Lemieux on Twitter.
"The Canadian trans teacher who sparked outrage for wearing Z Cup prosthetic breasts while teaching children at a school now claims they are REAL breasts and that they are growing due to a rare medical condition. Just days ago, he seen dressed as a man with no breasts!"
TRANS TEACHER WITH GIANT PROSTHETIC BREASTS/NIPPIES FORCE CANADIAN SCHOOL BOARDS TO DEMAND DRESS CODE CHANGES
LAWYER SPEAKS OUT ON POTENTIAL LEGAL ACTION TO PREVENT TRANS TEACHERS FROM USING Z-CUP BREASTS TO CLASS
Those were comments that de Lemieux took aim at during the interview, calling them insulting.
"People online commenting are basically body shaming," the teacher reportedly told The Post.
Fox News Digital has reached out to Oakville Trafalgar High School and the Ontario Education Ministry for further comment, but has not yet heard back.
Joseph A. Wulfsohn contributed to this report.
CLICK HERE TO GET THE FOX NEWS APP