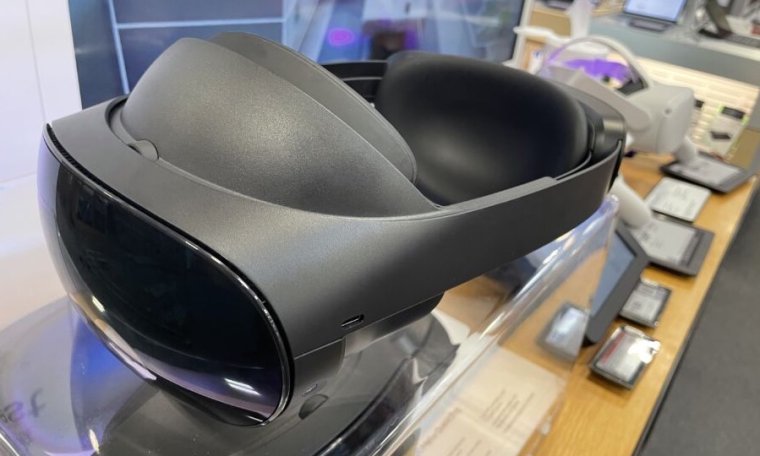 The next Meta Quest headset, scheduled to launch this year, will be thinner, twice as powerful and slightly more expensive than the Quest 2. That's according to a leaked internal hardware roadmap presentation obtained by The Verge that also includes plans for high-end, smartband-controlled, ad-supported AR glasses by 2027.
"Quest 3" will also include a new "Smart Guardian" system that allows users to walk around safely in "mixed reality," according to the presentation. It will come ahead of a more "accessible" headset, codenamed Ventura, which is slated for release in 2024 at "the most attractive price point in the VR consumer market."
This Ventura description brings to mind John Carmack's October Meta Connect keynote, where he highlighted his push for a "super cheap, super light headset" aimed at "$250 and 250 grams." Carmack complained that Meta "doesn't build that headset today, but I keep trying." Months later, Carmack announced that he was leaving the company, complaining that he was "obviously not convincing enough" to change the company for the better.
A third planned Meta VR headset, codenamed La Jolla and slated for "way into the future" after Ventura, will have enough power and resolution for the company's long-planned photorealistic "code avatars." This headset will be akin to the Quest Pro in terms of "how it sits on your head" and its focus on "work use … text and things like that," according to a presentation by Meta VP of VR Mark Rabkin.
Put Facebook on your face
However, all of these VR-focused headsets may just be a stepping stone on Meta's planned path to what it sees as revolutionary transparent augmented reality glasses. In this way, the company initially plans to build on the 2021 release of the "Rayban Stories" glasses, which are primarily focused on simple voice commands and smartphone integration with a built-in camera.
By 2025, the basic design will have evolved into glasses with an integrated screen that can display incoming text messages or translate text in real time. These glasses will also make use of a planned "neural interface" band. The smartwatch-style wrist unit, which Meta has demonstrated in the past, will be able to read wrist and finger movements to activate features like virtual D-pads and floating keyboards.
These glasses are in a separate product line from a more advanced, more expensive set of AR glasses, codenamed Orion, which Meta says are designed to project high-quality holograms on top of the real world. The glasses, which aren't scheduled for public release until 2027, will rely in part on ads projected on top of a wearer's view of the real world.
"I think it's easy to imagine how ads will appear in space when you're wearing AR glasses," Meta VP of AR Alex Himel told employees, according to The Verge. "Our ability to track conversions, which is where there's been a lot of focus as a company, should also be close to 100 percent."
That sounds more than a little worrying coming from a company known for the more sinister side of ad tracking technology. Who knows, but in 10 years Meta's amazing AR glasses might make fishing a smartphone out of your pocket dozens of times a day seem as charming as using a phone booth.
News of Meta's VR/AR product plans comes as the company lost more than $1 billion per month at its VR/AR-focused Reality Labs division in 2022 and a few months after the company laid off 13 percent of its workforce in recognition that some recent investments had not paid off.