Popular speaker company Sonos is preparing to launch new high-end 'Era' smart speakers to compete with Apple's HomePod range, and The Verge have received marketing images of the products as well as some rough price information before they are launched next month.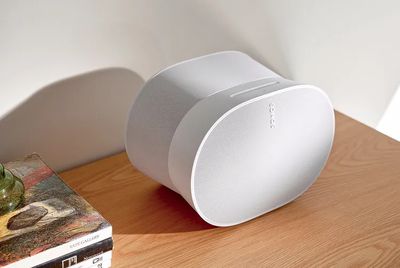 The Era 300, pictured above, will be the new Sonos flagship speaker, designed to highlight music in spatial sound. Other features include USB-C line-in, Wi-Fi 6 support, Bluetooth playback and AirPlay 2 support. The VergeChris Welch says the Era 300 is expected to be priced "in the $450 range."
The size of the Era 300 is said to fall between the Sonos One and the Sonos Five, and includes a total of six drivers that direct sound forward, left, right and up. A stereo pair of Era 300s, when used with either the Arc or the second generation Beam, will deliver rear surround sound including sound that is fired upwards.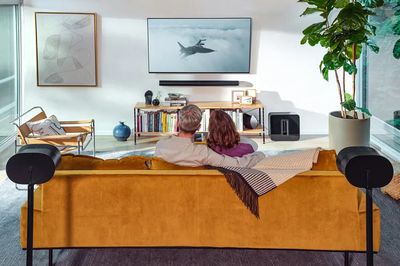 Era 300 can be stereo paired as rear surround with Sonos Arc and Beam (Gen 2)
Despite the Era 300 being designed for spatial audio, the Dolby Atmos songs in the Apple Music catalog are "unlikely to be supported at this time," according to Welch, who suggests that Apple and Sonos have yet to come to an agreement. "This could always change in the coming weeks or when the Era 300 hits the shelves," he adds.
The Era 100, shown below, has a rounder shape and does not come with upward-firing drivers, as it is not geared for surround sound like the other product. Welch calls the new speaker "an evolved Sonos One with (ideally) better performance," thanks to the addition of an additional tweeter for true stereo sound and an enlarged mid-woofer for more bass.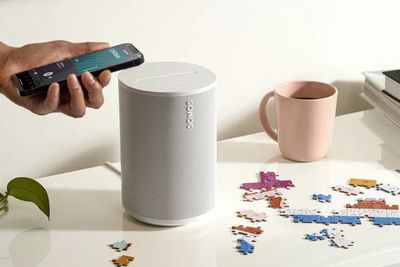 As the other new speaker, the Era 100 has Wi-Fi streaming, ‌AirPlay‌ 2, Bluetooth and USB-C. The Era 100 is expected to cost around $250 and will likely replace the Sonos One, which currently retails for $219.
Both speakers are expected to include Sonos Voice Control and Amazon Alexa voice assistants, but support for Google Assistant may be missing. Welch says Sonos will sell separately a line-in adapter for USB-C audio and a "combo adapter" to connect over Ethernet, since there's no built-in connector on either speaker.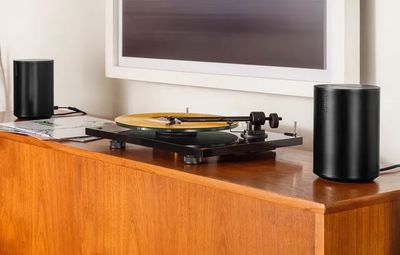 Sonos Era 100 in stereo pair connected to record player via line input
Sonos has reportedly set a late March release schedule for both speakers, which will be available in white and black, while the company is also said to be planning to launch a device in an entirely new product category by the end of the year.