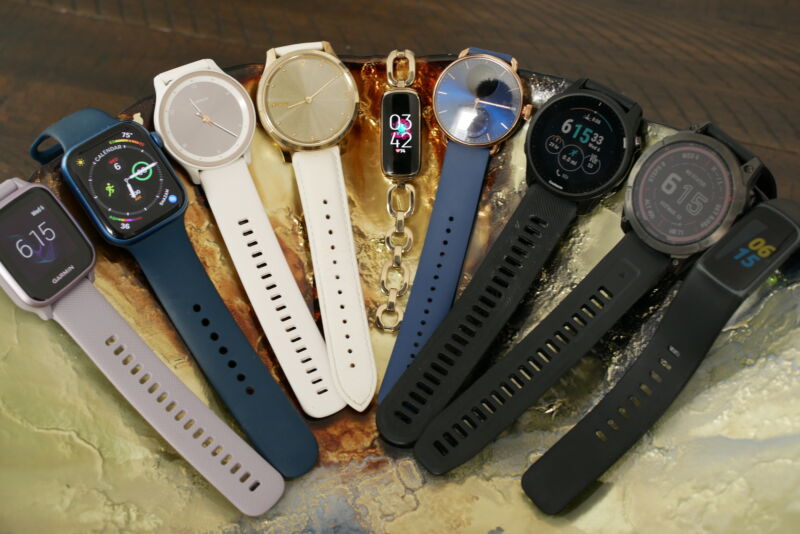 It seems like every company makes a fitness tracker these days. Even Amazon has created one—and that's in addition to the seemingly endless stream of no-name brands offered on its website. Aside from some major names like Fitbit and Garmin, though, most consumers are unaware of what all is out there.
Smaller names like Oura and Whoop have drummed up some buzz for themselves by eliminating screens entirely and focusing on very specific metrics, while the line between smartwatches and most other fitness trackers has become increasingly blurry.
I've strapped on just about every fitness tracker available, and I've sweated out at least my own weight-testing them. Below is the list of trackers worth your consideration, whether you're just starting your fitness journey or you're well along your way.
A note on testing
No one fitness tracker is best for every user. We all value different things, so these picks are sorted by their differing strengths. The best fitness trackers for most people are typically relatively inexpensive—around the $200 mark. They last about a week between charges, have built-in GPS, support blood oxygen monitoring, offer music storage, and give free (not paywalled), actionable health data.
The short(er) version
The two best fitness trackers for the widest range of people are the Apple Watch SE and Garmin Venu Sq. The newer Venu Sq 2 doubles the original's battery life but comes at double the cost of its predecessor. Simply put, at the ~$200 mark, the Apple Watch SE and Venu Sq provide the best bang for your buck. They both have built-in GPS, accident protection, music storage, the requisite heart rate sensor, and free, actionable health insights. The Venu Sq has a blood oxygen sensor, which the SE lacks, as well as six days of battery life, compared to the Apple Watch's single day. A big reason the Apple Watch made this list is watchOS 9's advanced running dynamics and swimming "swolf" scores (the Venu Sq lacks running dynamics but calculates swolf), among a handful of other tracking and activity expansions. Otherwise, the two devices pretty evenly matched. Both can connect you to a library of various workouts; Garmin's is free and mostly text-based (though it includes demonstration videos), while Apple's carries a monthly subscription fee of $10 for access to trainer-led videos and programs.
The runner-up is Fitbit's Charge 5. It offers perhaps the highest value of any tracker on this list, packing in sensors for ECG, blood oxygen, heart rate, built-in GPS, and an always-on display—all for less than $130. It also has a good amount of useful feature, like Sleep Profiles to help you understand your unique sleep traits and Daily Readiness, which not only assesses your readiness to exercise every day but suggests specific workouts, yoga routines, or mindfulness routines from Fitbit's own library of content. But that library, like a lot of features (including Daily Readiness and Sleep Profiles), is paywalled by Fitbit Premium, which comes free for only six months. Another potential drawback is Fitbit's past history of product quality concerns. The Charge 5 has only one confirmed connectivity issue that's affecting some users, and the company's fix seems to have reduced incidences, though not entirely. Still, for all it offers, especially for beginners, it could be a good fit for many.
Our picks for the most stylish trackers include the Fitbit Luxe, which looks like jewelry in certain colors. It offers much of what the Charge 5 does but without an ECG sensor or built-in GPS. It also comes with six months of Fitbit Premium for useful health insights and workout suggestions, making it a solid fitness tracker for casual- or beginner-level tracking. Garmin's Vivomove Series has some of the coolest hybrid watch technology on the market. Its hidden display illuminates while the watch hands realign to deliver unobstructed alerts and menus to tap and swipe through. Bolstering its value is Garmin's deep suite of free metrics and health insights. The Vivomove series has a small range of devices to choose from for different needs, but they all pull off a more traditional and formal watch look.
Fitbit's Inspire 3 is the best tracker under $100. You won't find built-in GPS or music storage at this price point, but the Inspire 3 delivers high value for beginner/casual fitness enthusiasts, particularly because of its inclusion of six months of Fitbit Premium. The sleep and exercise insights—paired with a library of exercise and mindfulness content (more than 200 of each)—are great tools for new exercisers to learn and stay engaged. Even better, Fitbit's Daily Readiness feature recommends workouts from this library every day. That helps this tracker punch way above its weight class.
The best running, cycling, and swimming watches are within Garmin's Forerunner Series. They deliver advanced running and cycling metrics (certain running dynamics require a chest strap heart rate monitor), GPS, music storage, heart rate monitoring, blood oxygen readings, and uniquely helpful training features. You can map and navigate runs or bike rides on your wrist, use tailored workout suggestions to train for a specific race on your calendar, and keep track of your training progress and impacts (aerobic, anaerobic, recovery) with easy-to-understand and meaningful proprietary metrics. Garmin's suite is my favorite toolbox for training on the market, and the Forerunner 955 and 255 build on that with a new Training Readiness feature and refined and expanded training tools. The 945 LTE even adds a cellular connection to enhance emergency service safety features. If you're a runner, cyclist, or swimmer, there's a Forerunner watch that can help you train more efficiently.
If you're a hiker, skier, seafarer, or outdoor adventurer of any kind, Garmin's Fenix, Epix, and Quatix watches offer the best mix of high-end, sport-specific features and hardware. These highly ruggedized watches have all of the best features discussed in the Forerunner series and build on them with solar charging, more robust materials like titanium, and even LED flashlights in some models. Multi-frequency GPS, boating- and sailing-specific tools, 10 ATM water resistance, and on-device topographic maps of roads, trails, and ski resorts are among the feature highlights you'll find in these series of watches. Battery life ranges from two weeks to a month in regular modes, but advanced power modes and solar options can extend that even further.
Best overall: Apple Watch SE or Garmin Venu Sq
The Apple Watch SE has GPS, music storage, and advanced running metrics.

Garmin's Venu Sq


Corey Gaskin
Apple Watch SE (second gen) for $240
Given its price and features for heart rate zones, advanced running metrics, and multisport activities, coupled with its unbeatable first- and third-party app and hardware support, the SE earns its good reputation. The biggest ding against it is its day-long battery life; the next shortest battery life for a tracker on this list is five times as long.
The SE doesn't have all the health-related features of the latest Apple Watch Series 8. It lacks an ECG sensor and blood oxygen monitoring. But it does have built-in GPS, a heart rate monitor, fall detection, plenty of space for music storage, and the same wealth of activity and third-party app support that all Apple Watches enjoy. Like the Series 8, the SE is powered by the same S8 processor, but unlike its more expensive stablemate, fall detection requires either a Bluetooth connection to your phone or upgrading to the cellular model of the SE in order to call for emergency assistance.
It's also capable of all the latest fitness features launched in watchOS 9 at a fraction of the cost of the Series 8 Apple Watch. New running features enable the SE to assess a runner's stride, cadence, vertical oscillation, stride length, ground contact time, power (in watts), and pace—features typically found only in dedicated running watches that further require a separately sold accessory to make them work.
watchOS 9 also brings a new multi-sport tracking mode for triathletes and a custom workout activity that can time intervals of work and recovery using your own structure. You can even get swolf scores if you're an avid swimmer. Perhaps most exciting for a wider range of athletes is the inclusion of heart rate zone tracking, which helps users aiming for a certain threshold of exertion to better track and maintain their progress in real time.
The Apple Watch SE is available new for $240, and you can occasionally find it on sale for a few bucks off. If you tack on $10 monthly (or $80 annually), you can also use the SE to access Apple's Fitness Plus subscription to help kickstart and guide your fitness journey.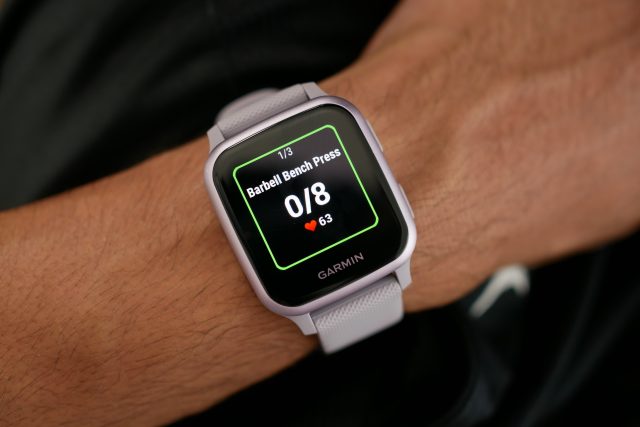 Garmin Venu Sq for $130
Garmin's Venu Sq is marketed as a full-blown smartwatch, but its sub-$200 price and a bevy of free fitness features and sensors make it one of the best options in the fitness tracker market. There's a newer Venu Sq 2 available, but we don't find the better battery life (11 days, up from six) and improved screen technology (OLED with a sharper resolution vs. half the resolution on an LCD display) to be worth twice the price of the original.
Admittedly, the Venu Sq isn't the prettiest smartwatch on the market (even with its wide variety of color options), but if it passes your taste test, you'll get a lot of value. The Venu Sq has all-day blood oxygen monitoring (which the Apple Watch SE lacks), as well as GPS and a heart rate monitor. It can also track your respiration rate but lacks the advanced running dynamics found on the Garmin Forerunners and the Apple Watch SE.
Music storage comes at a $30 premium on the $160 Venu Sq Music. As for safety features, users can enable Garmin's LiveTrack software, incident detection, and emergency assistance for runs, walks, and bike rides. Venu owners have access to Garmin's free fitness library, which offers 80 different workouts that are accessible through the companion smartphone app.
You can also create your own workouts using a seemingly all-encompassing list of searchable exercises from which you can build a workout session. That can be a helpful way to work through a strength training session, rather than going to your phone to remember each exercise.
The Fitbit Charge 5 has sensors for GPS, ECG, blood oxygen, and heart rate monitoring for under $200.


Corey Gaskin


Corey Gaskin
At around $150, the Fitbit Charge 5 may be the best bargain for a fitness tracker. You get ECG readings, blood-oxygen monitoring, a heart rate sensor, GPS, a vibrant, always-on display, and up to seven days of battery life. The only major omission here is music storage, though you can control playback from your wrist with your phone nearby.
So why is the most well-equipped, sub-$200 fitness tracker on the market only a runner-up on our list? Two reasons: Fitbit Premium's paywalled data and the company's history of quality concerns. Charge 5 owners have reported a widespread connectivity issue—one we can confirm affected our test device. Fitbit acknowledged the issue and issued a fix, which seems to have lowered incidences but has not eliminated them for some users.
Its health metrics are also paywalled behind the Fitbit Premium subscription. The $10 monthly membership is necessary beyond the six-month trial to access many of Fitbit's most useful features, like the Daily Readiness scores, which provide assessments on your daily recovery from stress, exercise, and other biological factors, and the newly introduced Sleep Profiles. Without Premium, you'll also lose access to Fitbit's library of over 200 workouts, 200+ mindfulness exercises, and a handful of recipes and sleep literature.
Paywalling your data is something neither Apple nor Garmin has done or shown any intention of doing. Meanwhile, Fitbit continues to add features that customers must pay a premium for.
Most stylish: Fitbit Luxe or Garmin Vivomove
The Fitbit Luxe looks like a fashionable bracelet.


Corey Gaskin

Garmin's Vivomove series employs a traditional watch design with futuristic flourishes.


Corey Gaskin / Ars Technica
The most stylish fitness tracker is naturally a matter of preference, but some companies certainly make more of an effort in this department than others. Here, we chose two trackers that not only embody a fashion-forward design but also have a nice slate of features at a reasonable price.
Fitbit Luxe from $109
The Fitbit Luxe has one of my favorite designs for a fitness tracker, and with the right watch band, it's a chic piece of jewelry. I'd recommend the Gorjana link bracelet or one of the leather straps. Amazon also has plenty of options in various styles.
As for fitness tech, the Luxe has a heart rate monitor and blood oxygen sensor but lacks GPS. You can pair it with a phone for GPS data and track over 20 different exercises. Battery life is about five days with mixed usage.
Similarly attractive to its exterior is the price. You can pick up a Luxe for around $100, or it's $200 for the special edition with Gorjana's bracelet.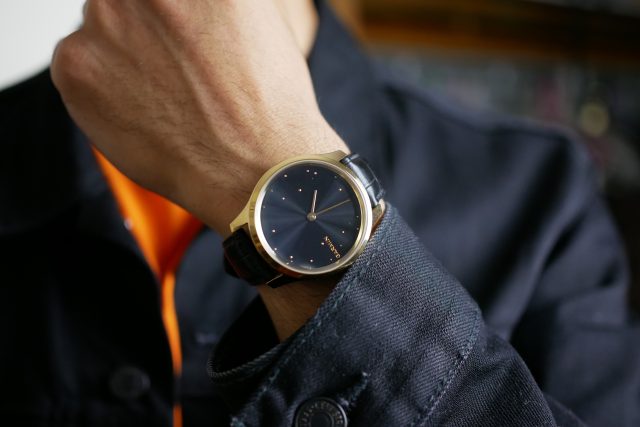 Garmin Vivomove from $180
Garmin's Vivomove watches are also fashionable options that pull off a more classic watch aesthetic while hiding some high-tech flourishes within. The innovative design makes these watch faces appear to be solid metal, but they're actually translucent touchscreen facades. When awoken, the watch hands align to specific positions (depending on the interface screen) and the display illuminates with animations, text, and graphics.
For fitness tracking, the Vivomove comes with blood oxygen monitoring, a heart rate sensor, and five days of battery life, and unlike the Fitbit, its deep data analytics aren't paywalled.
The Vivomove series includes (from least to most expensive) the Vivomove Sport ($180), Vivomove 3/3S ($200), Vivomove Style ($210), and Vivomove Luxe (from $420). In addition to being the least expensive, the Vivomove Sport is also the newest of the bunch and sports a polymer case. That and the Sport's slightly updated interface are about all that separates it from the stainless-steel Vivomove 3/3. The Vivomove Style uses anodized aluminum for the case and employs a color AMOLED display for its hidden interface, as opposed to the white-only light that illuminates the Sport and 3/3S. The ultra-stylish Vivomove Luxe can only be ordered custom-made. Options include a variety of 18- or 24-karat gold cases and leather, suede, and metal watch bands. The Luxe is also the only Vivomove watch with built-in GPS.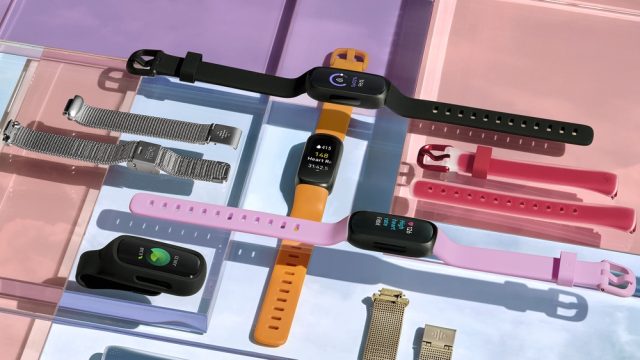 The Inspire 3 is a small, simple tracker that can be great for beginners, especially at its sub-$100 price. It's a pretty basic device that comes with heart rate and oxygen sensors that measure breathing rates and skin temperature. Notifications are displayed on a small OLED touchscreen, and the Inspire 3 lasts for 10 hours on a charge. The most valuable aspect, especially for beginners, is the free year of Fitbit Premium. It's a good introduction to learning about what your health data means.
You can also grab a Fitbit Inspire 2 for about half the price ($56) if you don't mind losing blood oxygen measurements and the full-color screen.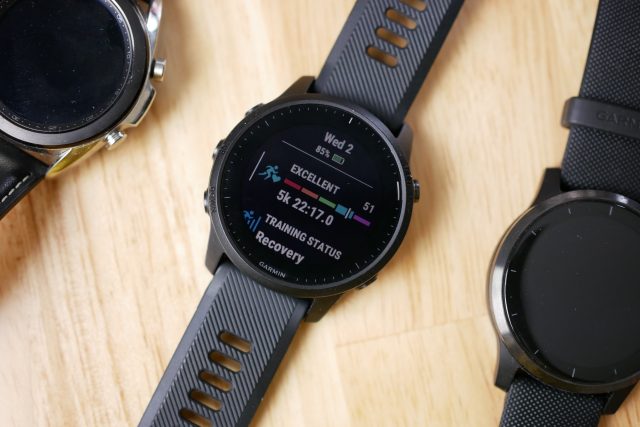 The Forerunner series offers a wealth of running, training, and recovery metrics and assessments that take the best of Fitbit and Apple's data scopes and push them to another level.
Except for the lowest-end Forerunner 55, the Forerunner series offers advanced running metrics, including vertical oscillation, stride length, cadence, and ground contact time. These measurements require an additional chest-strap heart monitor (about $125), but they also go deeper, giving you data on other factors like balance and lactate threshold (the point where your muscles begin to rapidly fatigue). Features like Race Predictor, which estimates your performance for specific race goals, don't require the chest strap. Other built-in features include a plethora of training and recovery tools that help you train for races and understand your progress.
Training Effect shows you how each workout impacts your cardiovascular performance.

Training Status helps you visualize your overall training impacts.

Training Readiness assesses your sleep, training load, and HRV, among others metrics, to determine how primed you are for exercise each day.
Cyclists get a set of cycling-specific advanced metrics as well. This includes functional threshold power, cycling dynamics, course creation, and a suite of mountain biking dynamics that include jump metrics, "grit" (difficulty), and "flow" (maintaining speed) scores. Similarly, you can pair most Forerunner watches with secondary hardware (Garmin's Rally or Vector bike pedals) to gain even deeper data from your cycling.
Some Forerunners, like the 945/945 LTE and the new 955, even have preloaded topographical maps, while most at least have routing and point-to-point navigation features. Which Forerunner is best for you depends largely on what features you find useful. The 945 LTE is the only Garmin watch with built-in LTE capability for always-on safety features, live tracking, and event-sharing capabilities. These features require a monthly subscription of either $5.99 (with an annual contract) or $6.99 (with no annual contract), and the subscription does not enable phone calls or texts—just safety features.
The 945 LTE also offers most of the advanced running and training metrics discussed here, except for some of the newest features exclusive to the recently launched Forerunner 955 and 255. The main difference between the 955 and the 255 Music (besides $100) is the inclusion of topographic maps, a collection of golf features, and a touchscreen (which you can disable) on the 955. The Forerunner 55 lacks most of these features (as well as music storage), but it can still be a decent entry-level running watch. Garmin's comparison tool is handy for determining what you can and can't live without.
Best for hikers, skiers, seafarers, and outdoor adventurers: Garmin Fenix, Epix, and Quatix series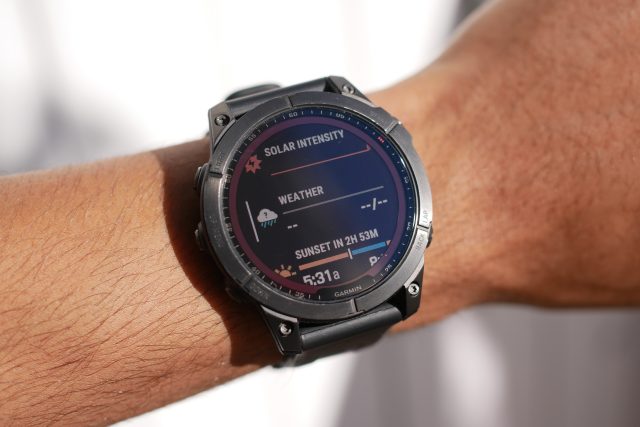 Garmin's Fenix, Epix, and Quatix watches are among the most highly equipped outdoor wearables, and their prices reflect that distinction. Aside from obvious hardware upgrades like steel and titanium cases, solar charging, and even LED flashlights on some models, the more ruggedized watches aren't too different from the Forerunner series.
All three of these watch series offer advanced running, cycling, and training metrics, along with safety features. They also have downloadable, navigable topographical maps of trails and roads for runners, hikers, and cyclists, as well as ski resort maps for winter sports.
Also unique to these series is multi-frequency GPS for better accuracy, a higher 10 ATM water resistance rating, tide data, and an impressive 15 to 18 days of battery, which can be extended substantially using various power modes.
Choosing between the three of them is pretty simple. Again, using Garmin's spec-comparison tool is a great help, but there's only one major difference between the Fenix and Epix: the screen technology. The Epix has a higher resolution to match its punchier AMOLED display, while the Fenix uses a "transflective" memory-in-pixel (MIP) technology that illuminates and reflects the sun. The Quatix is your best bet if you need tools specific to boating, sailing, or sail-racing. It also has the longest battery life rating of 28 days and a built-in LED flashlight for safety.
Notable mentions: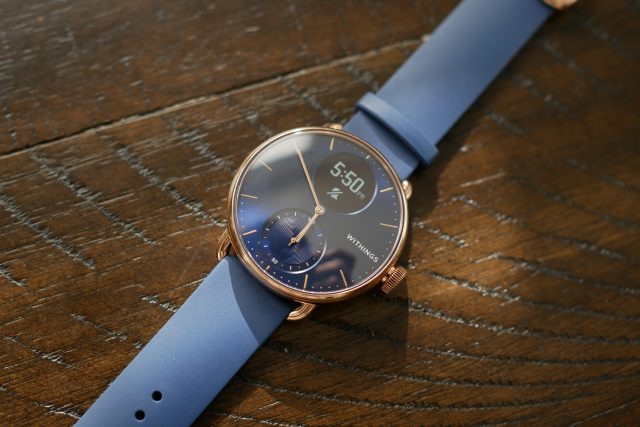 Withings ScanWatch from $265
Withing's ScanWatch is a sharp-looking wearable. Though this watch-inspired tracker does everything well, it doesn't stand out as the best in any category.
At around $250, it includes an ECG sensor, its battery lasts for up to 30 days, and it's the only wearable with a Food and Drug Administration-cleared blood oxygen monitor.
Ultimately, though, it's a rather basic fitness tracker. It lacks GPS, it overestimates my sleep a bit, and it gives only simple activity information (heart rate data, calories burned, and duration). There's not much in the way of actionable insights for improving your lifestyle or workout sessions, either. That's something Apple, Fitbit, and Garmin all do better. But if style is a primary concern, the ScanWatch is a fine choice.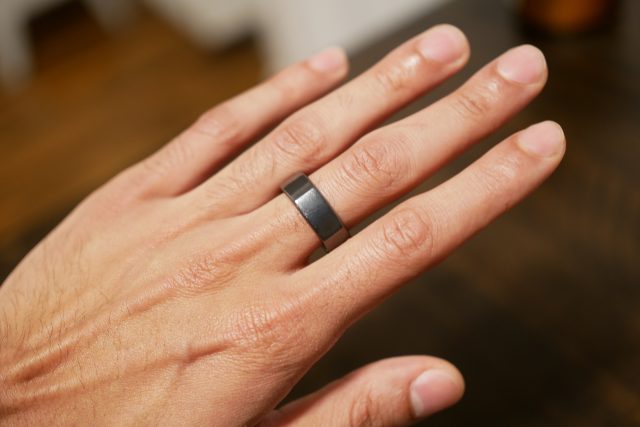 Oura Ring Gen 3
The Oura Ring Gen 3 is a device I really wanted to like when I first tested it against the Whoop Strap 4.0. Ultimately, it's a tough sell for two reasons: its high price ($400) and its $6 monthly subscription model for health data beyond a day's time. Subscriptions for data, however annoying, are becoming more common in the fitness market.
But what really keeps the latest Oura Ring from making our best fitness trackers list is the fact that it's not a good fitness tracker. It's not really marketed as a fitness tracker, either. Since it's a ring with no interactive display or GPS, you must either rely on manually entering and detailing your exercise in the smartphone app or wear an actual fitness tracker.
The Ring does have an automatic activity tracking feature, but like all fitness trackers, it's far from accurate.
The need to double up on devices and pay a subscription fee aside, Oura does give helpful, concise, easy-to-digest insights at a glance in the app, while also offering in-depth explanations wherever helpful. If the two caveats above don't bother you, the Ring offers one of the best app experiences for accessible, actionable wellness guidance.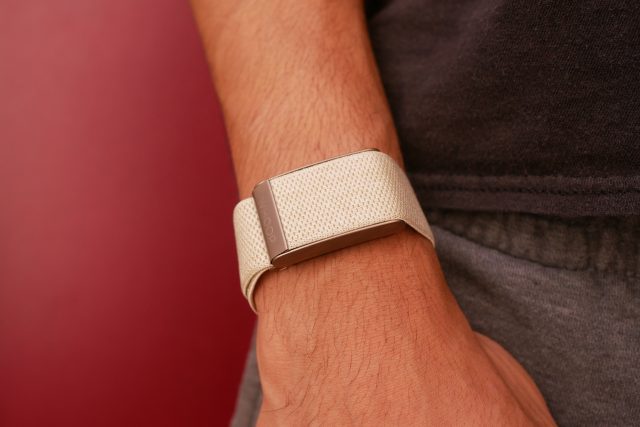 Whoop Strap 4.0 for $30 a month
The Whoop Strap 4.0 is another buzzy, subscription-based tracker that focuses on recovery. With the Whoop Strap, the $30-per-month subscription is the only thing you'll pay, as the tracker comes "free" with the subscription. Whoop markets the device as a tool for serious athletes looking to avoid overtraining and injury.
Much like the Oura Ring, it's another screenless, GPS-lacking device with automatic activity tracking that works best when paired with a secondary fitness tracker. The insights Whoop offers aren't very intuitive, which is unfortunate given the $30 subscription. It provides a lot of proprietary numbers that are hard to contextualize, even with an explanation. And since we're on the fourth generation of the Whoop Strap, quality issues make this a hard product to recommend.
Do not get:
Amazfit GTS 2
Huami's wearables are rather ambitious for the price. Selling for under $200, the GTS 2 attempts to track over 90 different sports and comes with seven-day battery life, built-in GPS, blood oxygen monitoring, and music storage. The Apple Watch knockoff styling aside, it simply didn't track activities or sleep very accurately. Furthermore, there's very little in the way of app support.
Amazon Halo View
Amazon's Halo View tracker is another overly ambitious tracker that falls flat. A strange, under-developed body-fat-measuring feature requires you to take (supposedly secure) photos in your underwear and upload them to the app for analysis. That includes an even weirder body fat slider to see what you'd look like at different percentages. There's also a feature for listening to and judging your tone of voice, meant to help prevent you from coming across poorly in conversations.
Furthermore, the tracker struggles with app support, and it cannot get any app or phone notifications. You can't even use your phone's GPS with the Halo to track activities, so you'll be forfeiting GPS tracking entirely. Movement Health, which is similar to Apple's Walking Steadiness feature, is intriguing for its more built-out implementation, with exercise recommendations to improve your stability, but it's not enough to save this lost tracker. This is the second-gen Halo, and it's not worth your consideration.